One of my favorite things about spring and summer are the festivals… Art festivals to be exact…I attended an arts festival last year and wrote this post then… I wanted to reshare on the shiney new blog… I enjoyed it so much that I don't leave the festival until I have experienced everything it has to offer…. I was standing in line with two beautiful children waiting for the face painters when the smallest angel started to fidget… I left Mr amazing with my son, and took his daughter to wander a little… Right next to the line was this booth, with the colors and textures and visuals screaming my name…  I first caught sight of this jump suit… bedazzled and bespectacled over every inch of the surface, and I guided said smallest child towards it, as the darling four-year old loved beads and jewels and anything sparkly really… she ooohhhhed and ahhhhhed enough that I dared take her in further to this booth… cautioning her not to touch anything…. Amazingly enough she listened… maybe she was moved by what she saw as much as I was….
You see the sweet artist in this picture, She was so kind
There was a little haven from the world in this booth, every worry and stress I was carrying with me melted away as my senses normally used to focus on them was distracted by the sculptures… I forgot about how I was going to pay the bills, How in the world I was going to manage all the upcoming events… What I was going to make for dinner… Hurt feelings… Anxiety… Physical aches and pains… and entered what could only be described as the world of a Book.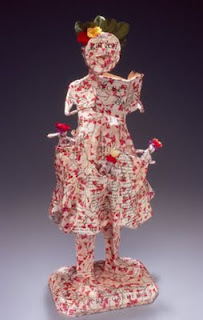 You are what you read… This is the one I would want to be… The secret garden
We spent a good 15 minutes in there, mesmerized, and captured before rejoining our group to tell them about the magic happening over in that little tent, in the heat of the day, and we returned the next day… so the boys could see it this time… and they too were awed, and touched…. Sometimes I think we forget to look at things from a different view, that there is more to this life than bills and worries… There are still beautiful things to show our children… and that it can't be found in a classroom, or a bank account, or a clean home….

This was my personal favorite, It reminded me there is more out there, than my small little view… Better things are coming… and the world still can be beautiful.
I needed that… and it moved me…. I will be saving up for this piece.