Once in a while… right in the middle of an ordinary life…. life gives us a fairy tale….
I am not even really sure how this happened… I posted about these little fairy doors a couple of weeks ago… about how I just wanted t make a few peoples days a little brighter…. well… things have certainly gotten brighter…. Lets start with some pictures and then I will tell you more about it…. These are out and about all over Bountiful Utah… and its is funny… because I really thought people would not see them… or ruin them…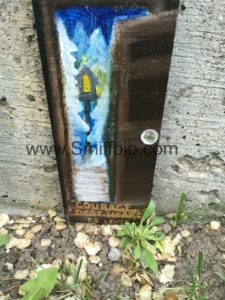 as you can see from the images…. not only did people not take them… I felt this weird obligation once I realized people were looking at them… being careful with them… drawing hearts with rocks in front of them… stacking leaves in front of them (I am assuming these are little girls doing this) to well…. keep up the locations… we have had some insane weather around here lately… rain and wind… but my little doors just keep staying… I have had evidence (Such as chewed gum used as adhesive) that I am getting help with the upkeep of these…. Sooooooo I had some little stuff around my house… from other projects… and I began making additions…. LOL I have painted 26 doors now… I still have 20 of them out there… some have gotten taken… which was the original assumption… so I am not upset about that… but the ones that stay are the ones that make me laugh… I wonder what people think…. there is a sweet little path behind our local library (the bountiful library) that has several…. I think that at this point that is where I am going to have to focus most of my attention… I wonder if at some point the city will complain about these little fairies being about…. but so far they havent… and I suppose at this point also I am probably going to be a little sad when some kid, teen, or adult comes through and finally does break them… or throw them away…. or whatever…. but for now… I am going to continue my little game… I have no idea who is seeing them… if they like them? or what is going on… but about every 72 hours or so… I go a make a round to them all… and make sure I am not littering… that they are in good condition… and I usually add something to the site… Its small… I know… but I do feel like something is happening… even if it is to me.