And on this sunday morning… on these blank little books… this magic is being delivered… with Donuts!
GRANDPARENTS DAY OUT
10/02/2016
This was a Sunday morning like no other. Grandma Kerry and Grandpa Benjamin were relaxing on the couch waiting for their Grandchildren to come!
The soft sun rays were shining through the window as the gentle wind blew. They felt very special as they quietly whispered to each other. They said, "It's almost 10 o'clock! "
The phone rang suddenly, "Hello?"
The best mother in the whole wide world was on the other end of that phone call "I don't think we can make it! My most precious children have '<Insert Whatever Virus Here>'"
"OH NO!" Exclaimed the Grandparents! "You better stay home then! Grandma gets very sick with childhood illnesses!!! But we hope they get better soon!"
Grandpa Benjamin and Grandma Kerry looked at each other …. They were both feeling very sad not to get to have a Sunday Adventure with Jason, Cameron, Jordan and Addison! How could they cheer themselves up?
Grandma Kerry had an idea!
"Grandpa Benjamin, Lets go on an adventure just you and I!" she exclaimed
Grandpa Benjamin nodded his head excitedly "Okay! Let's go to all the magical places we would never take the kids… because it is way too dangerous! But we are grownups!"
So they snuck out of the house past an Aunt Lacey who was playing Animal Jam at the computer. Tiptoed right by an Uncle Johnathon who was still sleeping, because he can sleep forever! They patted Zip on the head and scratched behind Shadow cats ear and just like that they hopped in their car and took off!
Giggling excitedly after their sneaky escape, they headed toward their first stop. "Remember what Jason said about the place that has Trampolines to Jump and Pools to Swim in?" Grandma Kerry asked Grandpa.
"Ofcourse! He is such a clever boy! If he ever knew the truth!" Grandpa turned the car in the direction of the super secret jump and swim land.
There was not a child in sight as jumping from trampolines into swimming pools was very dangerous! But these grandparents laugh in the face of danger!
"Ha Ha Ha" they laughed as the jumped high into the air and canonballed straight into the water.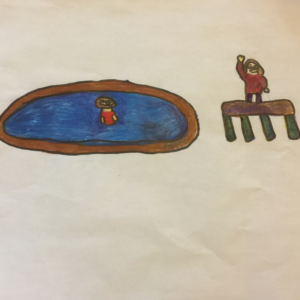 When they surfaced Grandpa Benjamins beard was dripping and Grandma Kerrys black eye makeup was running down her cheeks, but they began to feel the loneliness of missing those magical kids get a little easier.
They jumped several more times. They were so big that their splashes were enormous! It was such a fun time!
"I suppose this would be the perfect time to check on our Rocket Ship! We never have time during the week because of work!" Grandpa said as they floated about the pool.
"Great Idea!" Said Grandma. "We can go there next, because we can never let those fantastic boys and their new little sister know we have it! My Goodness! Can you imagine? Cameron would push all the buttons!"
Grandpa nodded in agreement "Jordan is learning how to push things too, just like they always try to push my speakers!"
They left the windows down as the drove away to let their hair dry because  Space was cold and neither of them wanted to get sick because they definitely couldn't go another Sunday without being able to play with the Grandkids.
They quickly put on their space suits, Grandma's hair was so long it poked right out of her helmet. Grandpa tucked it in and helped zip it up. He was always taking such good care of people.
3…2…1 BLAST OFF!!!!
And just like that they were off!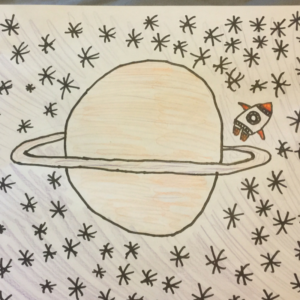 Rocketing through the atmosphere until they were up into the stars in space, and the Earth looked like a big pretty blue marble behind them. They shot past Mars and went through the rings of Saturn but it was just no fun without the kids. So they slingshotted around Jupiter and fell back to Earth knowing that as adventurous as Space Travel was… The best kind of adventures on Sunday Mornings were the ones with their Grandchildren.
Grandma Kerry missed covering Addison's Face in a bazillion kisses, She missed Jason running and jumping into her arms, She missed stealing Cameron kisses every time he got close enough to her to steal them. She missed fake sneezing at Jordan so that she could sneaky kiss him too! Ah Ah Ah CHOO!!!!
Grandpa Benjamin missed tickling Jason, giving Cameron warm hugs, spinning Jordan around in circles and holding sweet baby Addison!
They looked at each other knowingly as they climbed out of their Rocket Ship.
Grandma held up 7 fingers to Grandpa.
Grandpa held up 7 fingers back to Grandma.
7 days and it would be Sunday again! Their favorite day of the week.
"Cameron asked for Donuts this week" Grandma Kerry told Grandpa Benjamin.
"Jason loooooooooooooooooooves Donuts!" Grandpa said.
"Addison is too little but Jordan is finally old enough to have them too!"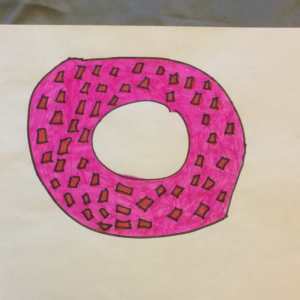 Off to the bakery they went. Hoping that everyone would get feeling better soon and that Grandma Kerry wouldn't catch the bug! No Antibodies! Whoever heard of such a thing!
They got enough Donuts for Everyone! Some for Mommy and Daddy, Even Uncle Johnathon and Aunt Lacey!
When their adventure was over they flopped back onto the couch and turned on the TV. They sure hoped that the next 7 days would go by quickly! They just loved Sunday Morning Adventures!!!
(Okay I totally put a picture of us not kissing in the books… but its funnier like this!)
Authors: Grandpa Benjamin and Grandma Kerry
Cover Artist: Uncle Johnathon (Cover Art below— and WOW!!!)
Illustrator: Aunt Lacey
GET WELL SOON!